Keyword rank tracking with pin-point accuracy.
Reliable and affordable keyword rank tracking tool that lets you focus on your SEO.
What's the difference between us and other keyword rank trackers? Our latest crawler acts and behaves just like a normal user so that search engines return the same results that normal users see.

Highlights
These are the best features of IntelliSerp.

When you login, the beautiful dashboard gives you a high level overview of what's going on with rankings on your websites.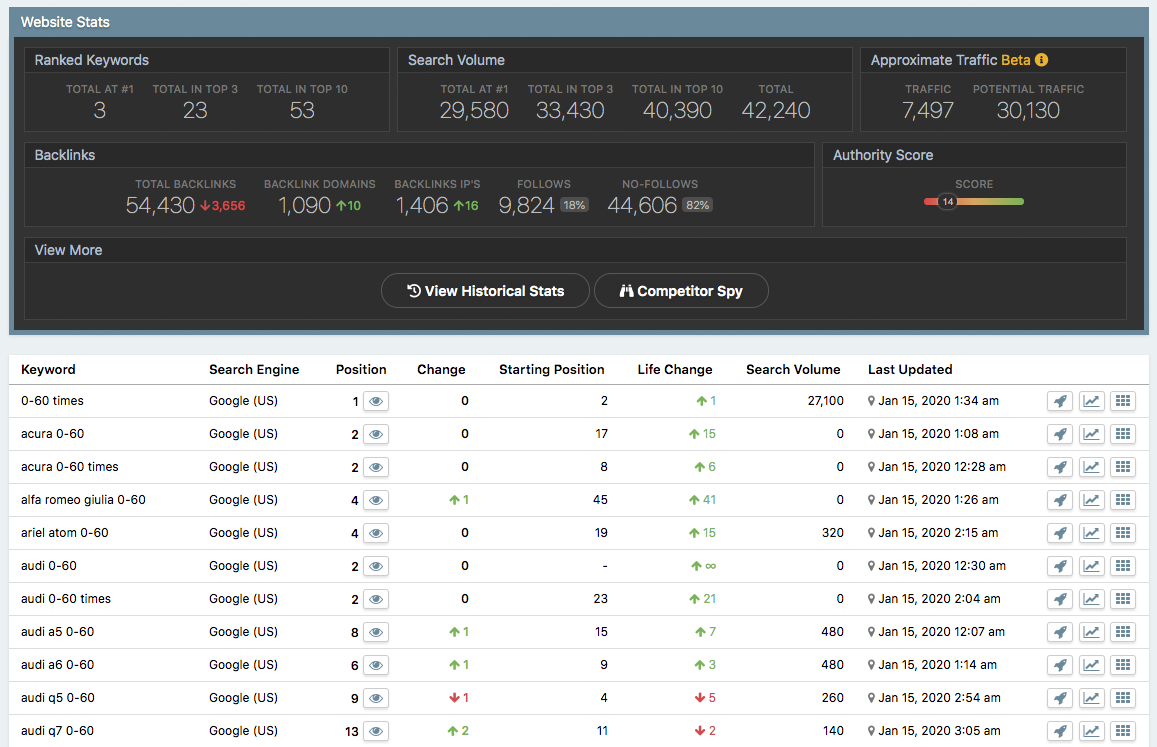 Clicking into each website reveals a lot of data. Data that can be used to make better and smarter SEO decisions.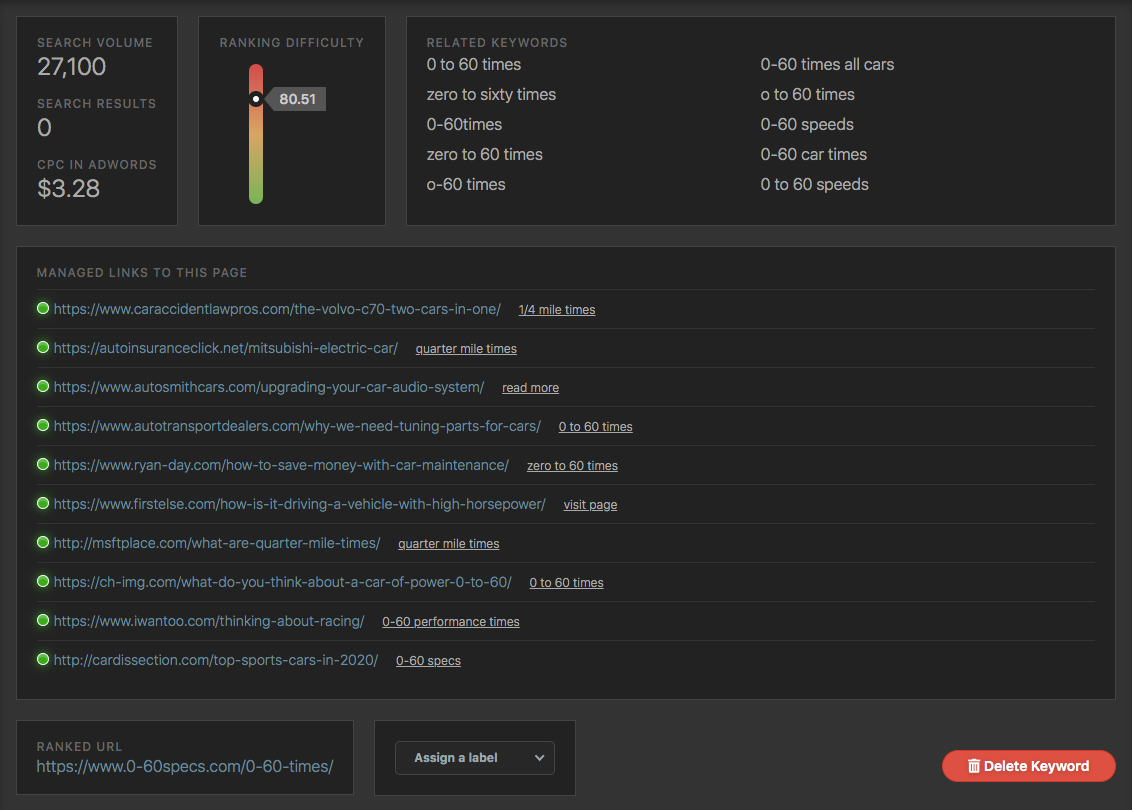 You can view keyword insights for any keyword you are tracking. Keyword Insights include information such as search volume, search results, CPC in AdWords, ranking difficulty, and related keywords.
In addition, your managed links will show up here so that you can keep track of them for each keyword or ranked URL.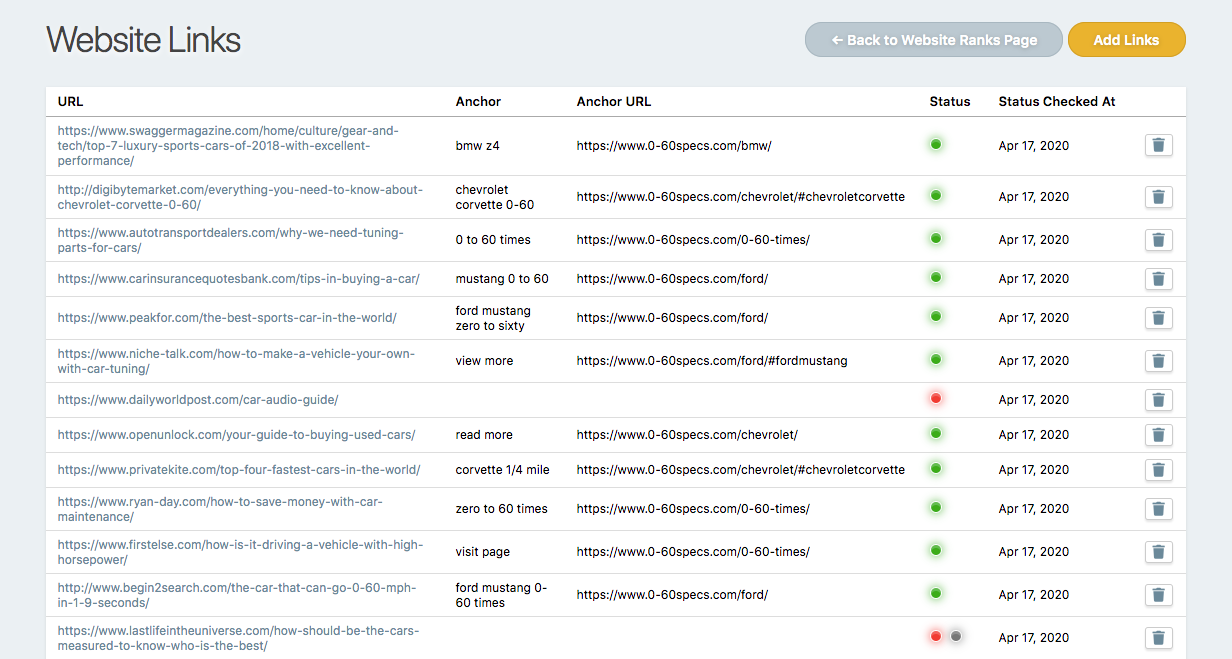 Link management is a unique feature IntelliSerp offers to allow you to keep track of your most precious backlinks and their status. Simply add your links and we will keep track of them monthly to make sure they are still active and that they still link to your website.

When you want to see the ranking history of a keyword, simply view the graph and it will show you the ranking trend for that keyword.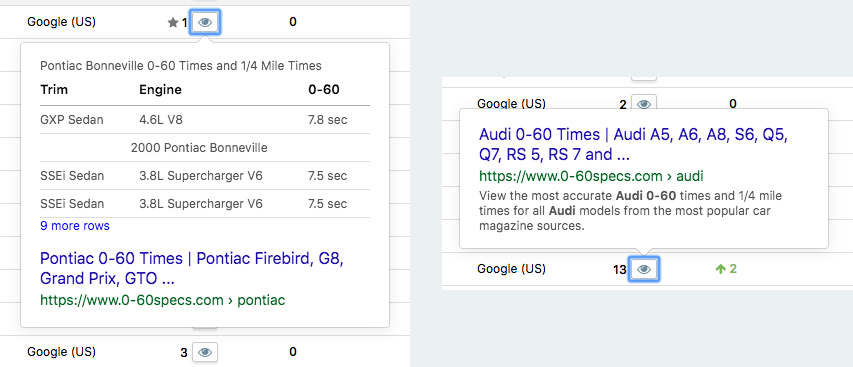 Our SERP view allows you to see exactly how your website appeared in the search engine results page when we crawled it. This includes regular organic result or featured snippet results. This is very useful if you recently updated your title or meta tags and want to know if Google or Bing picked up the updated tags yet.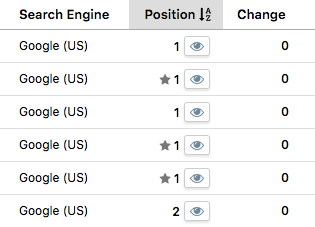 When your website is shown inside the featured snippet, we will highlight that with a star so you can easily see which keywords you are dominating.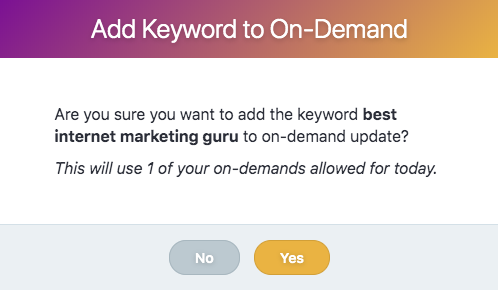 Don't want to wait for us to re-crawl the rankings of your keyword? Simply click the On-Demand button to add that keyword the crawl queue immediately.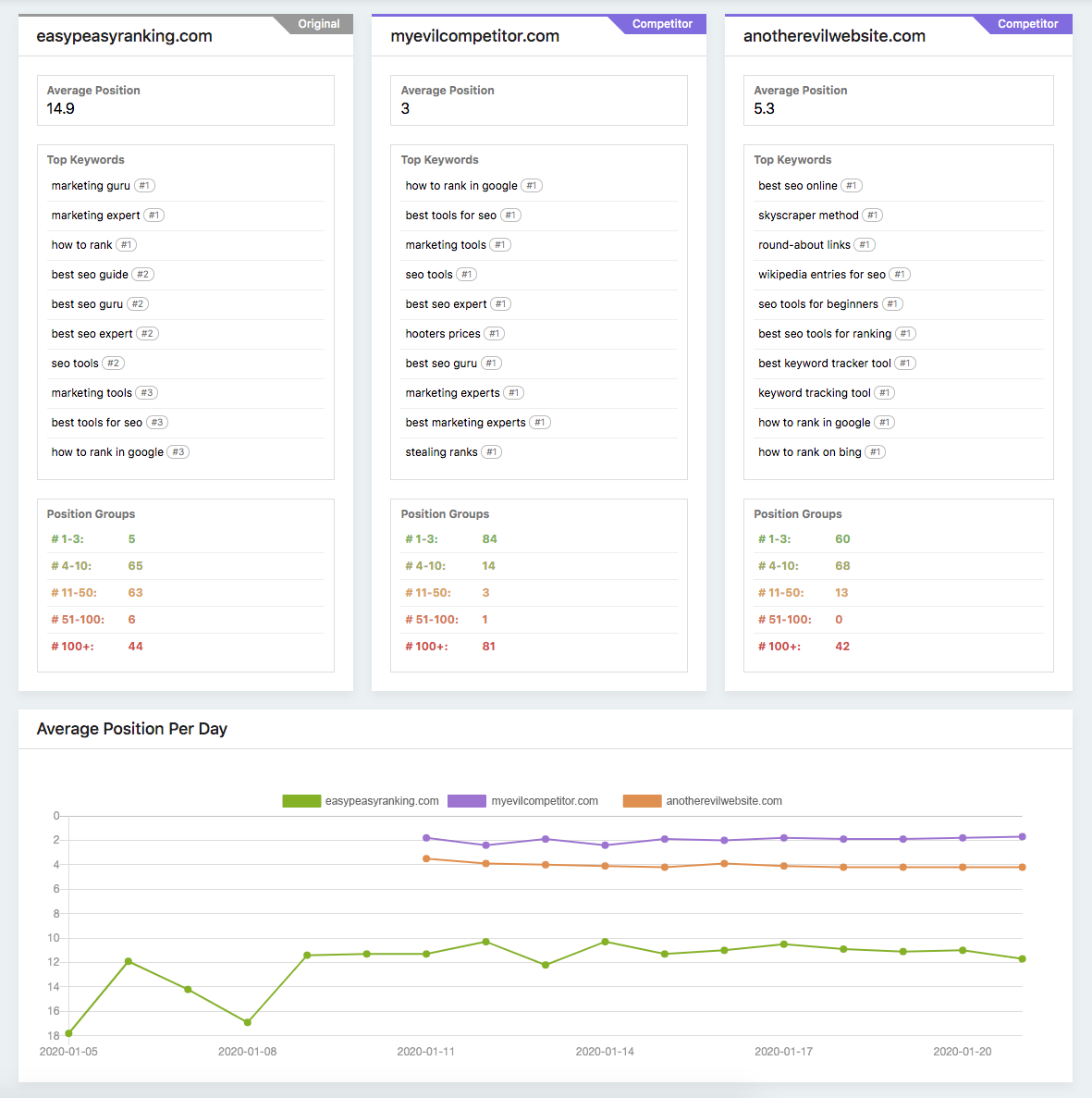 In addition to tracking the ranking performance of your website on Google or Bing, we also track the ranking performance of your competitors for no additional charge and it doesn't count against your keyword or website quotas.
What People are Saying About Us
A few words from our loyal customers.
I have used Intelliserp for over a year now and it is my go-to keyword rank tracking tool. The best part is they have added a bunch of new features over the past year such as reporting which I actually use a lot now even though I didn't sign up for that part.

Admir S.
Owner - Gym Membership Fees
We use IntelliSerp for tracking the keyword rank positions of all of our web properties and it has served us well. Having used other rank trackers in the past, IntelliSerp is just more intuitive and easier to use. Plus it is overall less expensive so we save some money too.

Haris B.
Co-Founder - Bacic Media Group
I have had great experience with IntelliSerp. Some of my favorite features are the keyword rank tracking, backlink profile analysis, rich keyword insights, and sharable report links. I also love the daily emailed reports as we get an overview of our rankings each morning.

Emir B.
Co-Founder - PriceListo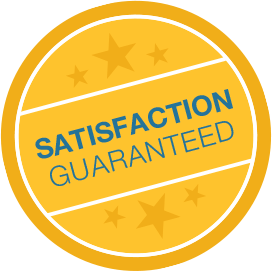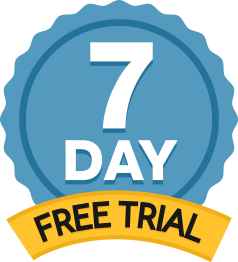 Pricing
Choose from one of the plans below that will best fit your needs.
All plans come with 7-day free trial and 30-day money back guarantee
Features
Frequent Updates for Every Keyword
Around the clock updates of all of your keywords. No more going days without a keyword update like other keyword rank trackers are known for.
SMS Text and Email Notifications
SMS text or email notifications are available for any custom rules you set. There are 5 different types of notification options you can create.
Track Keywords on Google and Bing
This is not just a Google rank tracker. You can also track keywords on Bing and choose from hundreds of countries for localized keyword tracking.
Keyword Labels
Group your keywords into labels for better organization. For example, you can group keywords based on the SEO strategy or timeframe.
SERP View
See exactly how your website looked in search engine result page when it was crawled. This includes organic result or if it was inside a featured snippet.
Track Competitors
Specify which competitors you want to track for each website and we'll take care of the rest. Now you will know which competitor is ranking best.
On-Demand Keyword Updates
The On-Demand feature allows you to initiate updates on any keyword at any time you want so you don't have to wait for the next scheduled update.
Historical Charts for Every Keyword
In addition to being able to view latest position updates, you can also see beautiful historical charts for any keyword you choose.
Mobile-Friendly User Interface
Why do most other rank tracker software only work well on desktops? Use our website on desktop or on mobile device when you're on the go.
Accurate and Stable Tracking
Our proprietary software uses state of the art technology to deliver the most accurate and stable keyword rank tracking in the world.
Keyword Insights & Research Info
View crucial information about your keywords including search volume, total search results, Adwords CPC, ranking difficulty, and related keywords.
Monitor Your Backlink Profile
Monitor your website's overall backlink profile including total backlinks, backlink domains, backlink IPs, and follow vs. no-follow backlinks.
View a Summary of Each Website
Website stats provide a summary of each website including total top ranked keywords, total search volume, and estimated traffic.
Keyword and Website Reporting
Create reports for any individual website or keyword. In addition, you can also save PDF reports, make your reports sharable, and schedule email reports.
Whiteout Feature for Sharing Data
Are you sharing screenshots of your keyword ranks with others but want to hide identifiable information? Just click on the Whiteout button to hide it.
7 Day No-Risk Free Trial for Everyone
We are offering a no-risk 7-day free trial to everyone. If you don't like our services, simply cancel your plan and you will not be charged a penny.
30 Day Money Back Guarantee
Unlike our competitors, we stand behind our service. If you are not happy with us for any reason, simply contact us and we'll refund your money right away.
24/7 Live Chat and Email Support
Do you have any questions? No problem. Simply talk to us in a live chat or send us an email and we will get back to you as soon as possible.
If you have any questions regarding IntelliSerp before you sign up, feel free to contact us.
Contact Us